| | |
| --- | --- |
| | Older Fuel Tool News / Heating Oil News |
Stock Markets and Fuel Prices Plunge
As a result of the corona virus outbreak, Saudi Arabia and other various OPEC countries have responded to the downturn by reducing the price of crude oil. Looking at the trend graph shown on the Fuel Tool home page, you can see the dramatic drop that happened today. This will obviously have a knock on effect with heating oil so that's good news if you're looking to buy oil.

Low Prices Bloom
Along with warmer weather and the appearance of spring flowers, we wish to welcome spring with some very low prices on heating oil. You may have noticed the downward trend recently and it appears to be continuing this way at the moment. In November last year, prices were a full 5p/litre higher on average, so it's a great time to order. Give us a call on 01352 219948 or use the Instant Quote Box (above) and get your fuel today.

Huge Drop in Prices
Join us in celebrating the new year by announcing a downward trend in heating oil prices. In the past month since December 1st, we have see nearly a 4p/litre average price drop across Fuel Tool. As temperatures have reached proper winter levels, it's never been a better time to order. Across the UK, Fuel Tool delivers to every postcode at the most competitive prices you will find. Give us a call on 01352 219948 or use the Instant Quote box to place your order now.

Great News - Oil Prices Fall
As global production outpaces demand we are being awarded with a dramatic reduction in fuel oil prices right now. Although the heating oil industry is slightly behind the crude oil market, in the coming few days and weeks, we should see a further reduction in pricing. Click here to read the full story from Sky News.

USA Sanctions - Knock On
The US Trump administration has recently imposed new sanctions upon Iran and with that he demanded that petroleum cash flow to Iran from China be choked. The result is that the global oil producing leader, Saudi Arabia is being forced to fill this gap in supply, therefore forcing knock on effect of rising heating oil prices as they announced they may not be able to meet the demand. Click to read a full article about this in a new window.

Autumn!
Goodbye sunshine, hello golden leaves, autumn breezes and a nip in the air! Fuel Tool wishes everyone a healthy and happy autumn season. Get your heating oil now ahead of Christmas and avoid the rush.

GDPR Update for Fuel Tool
As of today, a new set of laws regarding general data protection regulations (GDPR) begins enforcement by the European Union. Although the UK will be leaving the E.U., these regulations will remain the same moving forward from 25 May, 2018. If you would like to read our full privacy policy and commitment to data protection, click here to visit our Privacy Policy page. If you have any questions, please contact support@fueltool.co.uk.

Sunshing Brings Lower Prices
The warm weather sweeping the UK at the moment is not only a welcome introduction to spring, but has also brought with it a reduction in our heating oil prices on Fuel Tool. Order now and save today.

Contacting Your Fuel Tool Oil Supplier
If you have ordered with Fuel Tool, your order will have been passed onto an oil supplier whose details will be found in your order confirmation email. Should you have a query regarding your order during this extremely busy time, we urge you to be patient as fuel suppliers are trying their best to answer phone calls. Always remember that you can email your oil supplier as well. Their email details can be found in your order confirmation email as well. As always, if your query is urgent and you cannot get ahold of your chosen oil supplier, please feel free to contact the Fuel Tool team and we'll try our best to assist you.

Credit Card Charges / System Changes
As you may already be aware, as of the 13th of January it will be forbidden to include an extra charge to use a credit card for payment across the U.K. Starting on the 13th, all references to and calculation of additional card charges, will be completely removed from Fuel Tool. Previously, suppliers were allowed to add surcharges to an order if you were paying with a Credit Card, versus a debit card where debit cards incurred no additional fees.

All the Best in 2018
Wishing you a warm, prosperous and Happy New Year to all of our loyal customers and hard-working suppliers who list their prices on Fuel Tool.

Customer Service Announcement
We appreciate your patience as the weather and Christmas approaching is causing our telephone support line to be abnormally busy. We urge you to please use the Instant Quote / Order box to place your order and reserve telephone calls to support related enquiries if possible. If you have questions regarding tanker size, what to do if the driver cant fit all of the oil into your tank or how Fuel Tool works, please visit our FAQ page and all of the answers are there for you. By using our online support as much as possible, we can get through this busy time and help everyone. Many thanks from the Fuel Tool support team.

Snowiest Winter in 27 Years?
British weather forecasting hasn't always been accurate when it comes to predicting long term weather patterns. Saying that, here's an interesting article that predicts Snowmageddon this season. I suppose it wouldn't hurt to keep an eye on your heating oil tank levels just in case. Subscribe to Fuel Tool's Daily Price Updates and be ahead of the game when the perfect storm eventually hits (if it does)...

Children In Need Day 2017
Help BBC's Children in Need charity by ordering from Fuel Tool on Friday 17th November. A portion of the proceeds throughout the day will go to Children in Need. If you want to catch the live entertainment from the BBC, it will start at 7:30pm on BBC One. It's a great cause and by ordering from Fuel Tool on Children in Need Day, you're not just warming your home, you're doing a great thing for a great charity and helping children everywhere.

Crude Oil Update for Experts
Want to really understand what is happening with your heating oil prices? Here is an article from the fantastic Market Realist website that dives straight into the current analysis of global prices, production and trends from a commodity trader's point of view. So if you were ever wondering if NOW is a good time to order your oil, or wondered whether the prices might rise or fall, the best and only way to get the answer is by understanding the big picture from the global and political economy down to the very medium that defines the global prices, the stock market. Check it out.

Poppy Appeal and Remembrance
Please help Fuel Tool support all of the dedicated people who have served our country in the past and are working right now to protect our rights and our liberties in our armed services. A portion of Fuel Tool's proceeds this month will go towards the 2017 Poppy Appeal, helping to support the servicewomen and men who dedicate their lives to protecting our civil liberties, our freedom and our country.

Heating Oil v. Global Environment
BBC News published an article recently, explaining the current geopolitical problems around the world and how they are making the oil prices rise continually it seems. This past weekend, we saw another upward spike of prices of crude oil and this has again had a knock on effect for heating oil, unfortunately. If you're worried that the prices are going to rise further, it may be a good idea to stock up now, prior to the winter which normally sees heating oil price trends rise without any outside factors. Check out our prices and order now if you like, using the Instant Quote box shown above.

New Cheapest Suppliers on Fuel Tool
If you are in North Wales, Mid Wales, the Northwest or Yorkshire, or know anyone who lives there using heating oil, we have very good news. Recently, we have had new suppliers join us whose prices are much cheaper than before. Help them out by Clicking Here to send them a link to Fuel Tool so they can save on their order today!

Happy Autumn Fuel Tool Customers
We wish you a warm and pleasant autumn as we reach the 2017 autumnal equinox. Half way between summer and winter, it's time to start thinking about the cold months to come. As leaves start to fall and the temperature drops coming towards winter, it's a good time to think about topping up your heating oil tank. Don't get caught out in the cold - order from Fuel Tool today. By searching in your postcode, you are comparing the lowest priced suppliers in the UK and you can be assured you'll get competitive prices from the best heating oil suppliers. Happy autumn!

Oil Prices Affected by Hurricanes
You may have noticed the recent fluctuation in heating oil prices. This is due to the instability and partial inaccessibility of refineries in the US, caused by the recent hurricanes in Texas and Florida, among other global concerns. Click here to read a recent article which explains some of the phenomena we are experiencing at the moment. As you may be aware, heating oil prices tend to follow the same graph as the global crude oil prices.

Summer Heat / Low Prices
Beat your annual heating oil bill by ordering in the summer while the prices are low. Use the Instant Quote box to get a quote or place an order anytime, 24 hours a day, 7 days a week.

Six Years of Fuel Tool
Happy birthday to Fuel Tool. Today marks our six year anniversary and we'd like to thank all of our loyal return customers, our new customers giving us a try for the first time and our dedicated heating oil suppliers who have consistently offered the lowest UK heating oil prices and best customer service.

Happy New Year
We here at Fuel Tool would like to wish you all a happy and prosperous 2017.

Poppy Appeal 2016
We at Fuel Tool are proud to support the Royal British Legion in their 2016 Poppy Appeal of "Rethink Remembrance". Click here to read more, and please support our UK veterans who have risked their lives for our freedom.

Spike and Correction
Ultimately, whenever there's a spike in the crude oil market down or up it will usually experience a correction shortly afterwards, once the markets have found their feet with new information. Recently, OPEC (the Organisation for Petroleum Exporting Countries) announced that a deal was in the works that would eventually cut global production. This caused prices to rise, however prices are now sinking as that deal is looking like it isn't going ahead quite as planned. That's good news for you, the consumer as heating oil prices are following suit and reducing to a price that mirrored September's levels. Click here to read an article on the current market status.

Happy Halloween
We would like to wish all of our hard-working heating oil suppliers and loyal customers a very Happy Halloween 2016, from the Fuel Tool customer support team. We are very proud to have been serving Great Britain for over five years now and hope this autumn season brings you good health and happiness.

Opec Announcement Makes Heating Oil Prices Rise
Reading the latest article from The Guardian, crude oil and heating oil prices have risen dramatically over the past week, we're sad to say, and the trend going into the winter may continue on its path this way upwards. This is due to an announcement that crude oil output is going to have a cap on its production caused by a previous overproduction problem. Saying all of this you can see how crucial it is to make sure you follow the prices and buy when they are lowest. Use Fuel Tool's daily price updates and be in the know every day.

New Suppliers on Fuel Tool
Yorkshire, West Midlands and Central England now have new suppliers which we'd like to offer a warm welcome this past week, who'll surely help Fuel Tool keep prices at their lowest.

Crudely Put, Oil Prices are Low!
Prices have continued to drop in the international crude oil market and we haven't see the price per barrel this low since 2008. Click here to read the latest article from Reuters where they discuss why oil prices are so low right now. Heating oil prices follow a similar general price path, so that's great news to us all. Order now while prices are at rock bottom and ensure your winter will be one filled with warmth, and spend the money you've saved on something nice for Christmas instead!

Merry Christmas from Fuel Tool
We at Fuel Tool would like to wish you all a very Merry Christmas and happy holiday season. Our team are dedicated to serving you through Christmas and New Years with a smile and a pleasant voice. Feel free to ring our customer support team any time of the day and we'd be happy to assist you placing an order or answer any questions you may have.

El Nino Promises Cold Winter
The weather buzz is always important at Fuel Tool and this time it's El Nino that is making headlines. The MET office has warned that the 2015-2016 winter may be the coldest in nearly 50 years due to shifting global weather patterns caused by this phenomenon. The Daily Mail has this to say about it. Additionally, here is an interesting BBC Video talking about the same issue.

Fuel Tool Mentioned in The Guardian
Recently, The Guardian newspaper wrote about different ways to help keep your heating oil costs down and Fuel Tool was mentioned more than once. Click here to read the article on the Guardian website. Fuel Tool is continuing to defy the odds by further reducing prices to astonishingly low levels. Check out prices in your postcode with the Instant Quote box above.

Thank You!
Fuel Tool wants to say a big thank you to all its loyal customers. Time and time again you return to order your heating oil. We like to think it's because we offer great prices and great customer service. Whatever the reason, we appreciate your custom and promise to always put you, the customer first. So, in case we haven't said it in a while.. thank you!!

Children in Need Donations - Thank You!
We would like to offer the warmest thanks to all of the customers who ordered home heating oil on Children in Need Day 2014 (on Friday). In the end, Fuel Tool donated 15% of our proceeds made on the day to this worthy charity. From all of us at Fuel Tool, many thanks again for your support and contributions.

Winter is on the way!
Experts are predicting 2014 may be the coldest for a century. Oil prices are still very low and holding at the moment on Fuel Tool; however, as demand outstrips supply, the oil prices may rise. Fuel Tool wants to keep you toasty warm this winter for less. Fill your tank now and sit back and relax as winter takes hold.

Autumnal Equinox
In layman's terms, today is officially the first day of autumn, (the autumnal equinox). It is the time of year when the leaves start to change colour and our thoughts turn to keeping warm. Prices at Fuel Tool are as low as they have been all summer and are holding nicely. So, why not beat the rush and order today? Stay warm.. for less.

Why our customers matter the most
Great customer service.. just common sense, right? Well, not always I'm afraid. Here at Fuel Tool we know that nothing matters more than the customer experience, which is why we pride ourselves on the high level of customer service we offer. No problem is too big or too small, no request too silly. We are here to help and support you, the customer through the entire process of placing an order to delivery. Why do our loyal customers come back to us time and time again? Well, that's because we don't just deliver great prices on heating oil, we also deliver a customer experience which works for you. The relationship with our customers doesn't end when an order is placed.. it's only just begun!

High Temperatures.. Low Prices
The sun is shining in the sky and on Fuel Tool as prices continue to stay low. Thinking of heating your home isn't always a priority in the warm summer months but don't get caught out. 'Supply and demand' is a huge factor when it comes to the price of heating oil. Stay ahead of the game and order while supplies are plentiful and demand is low.

Fuel Tool Joins the .UK Revolution
Fuel has become even faster! As of today, instead of entering www.fueltool.co.uk, you can access our site by entering fueltool.uk into your browser to reach us (no www or .co required anymore). If you're old-fashioned, not to worry, the .co.uk is still here should you prefer it. Either way, bookmark Fuel Tool today and get your heating oil faster and cheaper.

Fuel Tool Celebrates 3rd Birthday
We'd like to thank all of our loyal customers and heating oil suppliers for supporting Fuel Tool for three fantastic years of providing a truly fair, useful and beneficial service to the UK. We hope to get better and better in the future and hope to always provide the cheapest prices, best customer service and reliable heating oil delivery to your home. Hip hip, hooray!

Shane Williams Joins Fuel Tool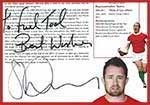 Although Fuel Tool is entirely impartial, we feel a special mention is in order about our most recent supplier on board in South Wales. Fuel Tool is proud to be joined by Star Multifuels, who is supported by one of the greatest Welsh rugby players of all time, Shane Williams, director of the company. Shane holds the Welsh record for test tries and 3rd place in the world rankings. We were honoured to receive an autographed card signed by Shane himself. Click the picture to see the full-sized image. Many thanks to Star Multifuels for sending this to us and we wish you all the best in supplying your heating oil on Fuel Tool.

Spring is Here
Fuel Tool prices continue to stay low as we've officially stepped into spring. Take advantage of the current low prices and order now while they are hovering at a three year low in most of the country.

Only the Best of the Best
Did you know that every supplier who wishes to join the Fuel Tool website must be approved and agree to follow a strict customer service policy? It's true. This is what makes all of Fuel Tool's customers so happy. We make sure that every supplier delivers on their promised timeframe and charge only the price that is listed; otherwise, they're not welcome on our website. Customer service excellence, responsive communication and delivering the lowest prices is what Fuel Tool is all about and our suppliers are the cornerstone of this philosophy.

Feeling Forgetful? Fuel Tool Can Help
Fuel Tool customers can now receive periodic reminders to let them know their tank may be running low. If you're a current Fuel Tool customer, visit your Customer Account and select the appropriate option. Voila! Never run out of heating oil again. Special thanks also, to one of our customers who recently made the suggestion to include it. Great work.

Happy New Year from Fuel Tool
We wish all of our dedicated suppliers and our loyal customers a very very happy 2014. All the best and a warm thank you for continuing to use Fuel Tool, the UK's trusted independent price comparison website for domestic heating oil. Hip hip, hooray!

Fuel Tool Supports Red Nose Day
We're proud to support BBC Children in Need day today. To show our support, we'll donate 10% of all of our proceeds to the BBC charity. We hope you will join us and help support this worthy cause as well. If you'd like to make a donation too, click here to visit the BBC's donation page to make your donation now.

UK Energy Minister Agrees - Order Early
It's not just price but capacity that counts when winter sets in. Last year's snowfall was a good example of how demand can cause a shortage of stock, and therefore increase delivery times. Click here to read a recent article on what the Energy minister, Michael Fallon, is suggesting. In the end, by ordering sooner you'll benefit from a lower price and sooner delivery.

Buying Group Quotes Go Live!!
It is True! Fuel Tool now have live, automated Bulk Order / Buying Group quotes. Visit the Oil Buying Groups page now and you can request a quote from ALL of the Fuel Tool suppliers to see who can offer you the lowest quote on your Bulk Order. A Bulk Order is when you combine your order with your neighbours' orders, fellow villagers' orders or even nearby towns' orders. They are usually orders over 5,000 litres with multiple drops per order. Find out more about the best possible way to save money on your domestic heating oil order by visiting the Oil Buying Groups Page on Fuel Tool and submitting your quote request now.

Prices Eeking Up! Interesting Facts from Huffington Post
We've seen a two-three pence per litre average rise in heating oil prices in the past two weeks. We normally would be moving in the opposite direction this time of year, but there are some insidious factors involved. Have a read of this interesting Huffington Post article on the subject of the current spike in oil prices and you'll be left scratching your chin. If you're low on heating oil right now, you should stay on top of what is happening to help you decide whether you should order before prices go any higher or stay in a holding pattern. We'll try to post relevant articles over the next few weeks, so make sure to check back at Fuel Tool.

Hip Hip...Murray!
Fuel Tool would like to congratulate Andy Murray - What a great match and a long time coming for Britain. (We realise this isn't heating oil news, but simply can't help ourselves...) Arise, Sir Murray!

Pence Per Litre
Daily Price Updates subscribers may be glad to know that prices previously listed in decimal format are now listed in pence per litre so alleviate any confusion. Thank you for the feedback, faithful subscribers. Keep the comments coming and we'll make sure that Fuel Tool is always the most user-friendly place to order your heating oil from.

The Heat is Rising but the Prices are Dropping
We're pleased to note a substantial drop in pricing in the past few weeks, as the sunny weather has brought some favourable prices to Fuel Tool. Subscribe NOW to our Daily Price Updates and order while the prices are currently at a 4 month low. Thanks to all of our loyal customers for your continued patronage at Fuel Tool, the UK's Independent Domestic Heating Oil Price Comparison Website.

The Heat Turns Up in Scotland
We'd like to offer a warm welcome our newest supplier to Fuel Tool today who covers large areas of Scotland with fantastically competitive prices. If your postcode is in Ayreshire, Edinburgh, Falkirkshire, Stirlingshire, Fife, Glasgow, Lanarkshire or Perth & Kenross, you're in luck. Check out the amazing prices now and order while it's hot!

NEW Addtion to Daily Price Updates - Crude Oil Prices
If you thought our automatic emailed Daily Price Updates were great before, we've just made it better! Now, we are including a 6 month crude oil price chart in our daily update email as well. This helps you see the base price trends even better. If you don't subscribe to daily updates, you're won't be in the know - so sign up today - it's always FREE.

New Testimonials! Check Them Out
Yesterday we emailed the 1,000 most recent customers on Fuel Tool and asked them to provide feedback about their experience with Fuel Tool and have posted some of the testimonials for you to see. Believe it or not, they're all 100% real actual customer comments. Click here to view the testimonials page and see what people are saying about Fuel Tool. As more comments continue to flow in, we will be posting them for you to see, so check back soon.

Stay on Top by Doing Nothing!
With dozens of heating oil suppliers on board with live pricing (and growing at a breakneck pace), we can assure you Fuel Tool is doing all the work for you. How long would it take for you to call around to dozens of oil suppliers to check on prices? That's why we're here.. In fact, sign up for free daily price updates and you can get your price comparison for all of these suppliers emailed to you every morning for free. So put your feet up and have a cuppa and relax...How cool is that? Click here to sign up now - It's FREE!

Let It Snow, Let It Snow, Let It Snow
Oh the weather outside is frightful, but the (kerosene) fire is so delightful... Happy sledging from Fuel Tool!

Cold Weather Blankets the UK
Our mild winter is finally turning into a proper one as snowfall hits the UK with a blast. Check out the MET Office Severe Weather Alert Page and stay on top of weather warnings in your area. - and for goodness sake, get your heating oil now!

Happy New Year
Happy New Year to all of our suppliers and our loyal customers. Fuel Tool wishes you all the best in the new year (and low prices for heating oil too, OF COURSE!)

Icy Temperatures Bring Orders to All Time High
Fuel Tool is happy to announce that because of you, we are having record orders and visitors on our website this December. Thank you for believing in us and continuing to trust Fuel Tool, the UK's Independent Heating Oil Price Comparison website.

Crude Brent Oil Prices on Fuel Tool
If you're a supplier, keen to strike when ready or just a heating oil consumer who would like to watch the price-per-barrel figures rise and fall, you can now do it from Fuel Tool. Directly proportional links can usually be drawn between heating oil prices and their biological parents, the crude oil prices that they are derived from, so be in the know and check it out every day from the Fuel Tool home page.

Fuel Tool Testimonials Updated
We've posted another update on the Testimonials Page with fresh comments from you. We've started including general comments from the public visitors to www.fueltool.co.uk, as well as from our customers who have placed orders with us. Thanks everyone for posting and keep on FuelTooling!

Fuel Tool in the News
Having recently been featured in the Fuel Oil News publication and Sunday Times' Money magazine as a truly useful tool in your armoury against high heating oil prices, we're delighted our purpose is being served. To all of you loyal Fuel Tool customers, we thank you for your support and continued business.

UK Heat Turning Up While Prices Go Down
As scorching temperatures come to the UK, conveniently to coincide with the Queen's diamond jubilee celebration we're pleased to see heating oil prices at their 1 year low here at Fuel Tool. This is an absolutely SUPERB time to refill your tank, so be cool and get it while it's hot by ordering from Fuel Tool today!

Lancashire Gets More Competitive
We wish to welcome our latest supplier on board today covering PR5 , PR6 , PR7 and WN6 Postcodes. If you're in one of these areas, you're in luck - this supplier has some of the best prices of any supplier you'll find in the UK right now. Check it out!

Final Cold Spell?
As spring is here and summer is approaching, we're looking at some snow. Welcome to Britain! Grab some oil quick while it's still pretty cheap and enjoy this spell in a cozy way.

Oil Additives Clean Your Tank and Boiler
Starting this week, we now allow our suppliers to include an addition of an oil additive to your order. For only a fraction more of cost, you can add a chemical treatment to your oil which can improve your boiler's efficiency and clean up dirty or clogged systems. Try it out next time and see if your tank goes further. To search for oil with additives, use the Instant Quote feature on the right. When your search is returned, there will be a popup description about the additive and its features when you place your mouse over the additive bottle icon.

Heating Oil Demand Slow this Winter
The BBC recently reported that the low volume of heating oil trading this winter has been due to the relatively warm temperatures and keenly pragmatic UK consumers. Read the full article here.

Long Time No See
It's been a while since we've posted an article on Fuel Tool so just a quick note to let you know that we're still here, fighting for the lowest prices and hope you pass the word onto your fellow heating oil friends where you found us. Many thanks from Fuel Tool!

UK Oil Prices Rising! - Order Now
Since the freezing and windy weather over the past few weeks, prices have risen about 1.5 pence per litre on average on the fuel Tool website. Doing some simple maths, you can see that it can really add up, so don't wait. Order now and secure your tank's winter supply of domestic heating oil is bought at a low price. Remember what happened last winter!

Buying Groups Work
Check out the Fuel Tool News page for our latest tweeted article from our favourite Yorkshire paper, the Post. Buying groups work. It's simple logic and mathematics. You can do it. Contact Fuel Tool today and we'll set you on your way to standing up against high oil prices! Click here to email us with your postcode and how many of your neighbours would like to join your group. We'll find you the cheapest Fuel Tool supplier in your area and get the ball rolling. You might just be voted Most Valuable Person for your village!

Fuel Tool Thank You to our Loyal Customers
We'd like to thank the many customers who have used Fuel Tool in the past to order your home heating oil. We wish you the best for the holiday season and hope you come back again! We already have a very high return rate of customers, which tells us we're obviously doing something right. Happy Holidays!

Weather or Not...
Whether December brings cold and freezing weather or not, it would be wise to order your oil at the soonest possible time. With delivery times already starting to extend, it would be better to be safe and order now, than risk running out when the icy blast arrives. The old Fuel Tool winter proverb goes: Cold fingers, toes and noses await for those who might procrastinate.

4 Week Weather Forecast for Dec 1
Check out our latest tweet on the Heating Oil News page. It links to a detailed look at the long range (1 month) forecast for the UK's winter weather. Generally speaking, December looks like a mixed bag, but could turn at any moment so beware!

Prices Drop on Fuel Tool
Over the past two weeks, prices have come down on average for the entire UK about one pence per litre across Fuel Tool. That can mean pretty big savings if you are ordering larger quantities of oil such as 1,000 litres or more. Subscribe to Heating Oil Price Updates and your postcode's cheapest prices will be automatically emailed to you every day, or every week if you choose. By staying up to date on the daily prices, you can order your heating oil at the right time, when prices are at their lowest.

Fuel Tool Suppliers are a Hive of Activity
Our suppliers are on it! Every time a supplier logs into our website to update their prices, we store that information on our systems. We sometimes have over a hundred separate logins a day on Fuel Tool by suppliers, adjusting their prices! We've designed Fuel Tool so that your local oil suppliers can log in and cross reference their regions with other suppliers to compare prices. They can check any region directly, ensuring they have secured the cheapest prices for that region on Fuel Tool. Because many of our suppliers use live oil price updates from the crude oil markets overseas, they are keen to adjust their Fuel Tool price accordingly to ensure the best price possible and that, ultimately is reflected in Fuel Tool's search results.

Direct.Gov.uk Tips for Winter Preparation - Stay Warm!
Direct.gov.uk Tips will prepare you for the winter months and the impending chilly weather. Check it out - it's simple cold weather logic, but can help you get through this winter with a warm feeling.

Jack Frost is Here - Save by Ordering Early
It was -3 degrees here at the Cheshire headquarters of Fuel Tool this morning and our suppliers are still listing prices not too far off our summer rates. Don't forget that as the weather gets colder and heating oil suppliers' businesses pick up, the prices tend to increase. Procrastinate on filling your tank and you might risk having to pay higher prices when Jack Frost really comes to town!

Get What You Pay For!
Read our Latest Tweet article from the BBC website. The Office of Fair Trading (OFT) are concerned that oil suppliers may occasionally deliver less oil than people are paying for. Every oil tanker should have an accurate gauge to show you how many litres have been pumped to your tank. Heating oil suppliers should refund you the difference if you don't get what you paid for. It makes sense to check your levels before and after your oil has been delivered just to make sure. We wouldn't want it any other way. Fuel Tool suppliers are dedicated to being accurate and providing an honest service. If a mistake is made, we want to know about it. That's the Fuel Tool commitment to transparency. What you see is ALWAYS what you should get!

Price Trends on Fuel Tool
Soon, you'll be able to compare our LIVE prices on the Fuel Tool website through easy-to-read graphs and charts. With these trends, you'll be able to see how Fuel Tool has compared to the competition since our launch only 6 months ago. You'll also be able to watch the live prices as they go up and down. Yes, our graphs will be generated live when you visit our price trends page. You'll even be able to embed these prices into your own website. If knowledge is power, then Fuel Tool is a power station!

Fuel Tool on Twitter
We now tweet information, news articles and industry information as it develops, to make sure you are always up to speed on the latest news in the Heating Oil Industry. To follow Fuel Tool, visit our Heating Oil News page and click the Follow Me link from the Twitter section at the bottom of the page. Tweet tweet!

Don't Procrastinate - Order Now and Save Hundreds of Pounds!
Based on last winter's trend, prices are likely to rise as availability of heating oil decreases throughout the cold winter months. History has shown that ordering in December or January can be much more expensive and cost you hundreds of pounds extra. As fuel demand rises when the frost and snow hit the UK, you can expect a substantial increase in costs, so Order Now while the prices are low and save loads on your heating oil bill this winter.

Customer Testimonials Live on Fuel Tool
Our Customer Testimonials section is now live on the Fuel Tool website. Read some of the feedback we've received...straight from the horse's mouth. Receiving feedback is always great here because at Fuel Tool we strive to deliver the best customer service possible and communication is truly the key to our service. So far so good!

Fuel Tool - Not a Wolf in Sheep's Clothing
Fuel Tool welcomes the recent action of the OFT. However, they must be careful not to tar all online price comparison websites who sell heating oil with the same brush. In the ever changing world of heating oil, transparency is key. Recently, some heating oil price comparison sites have come under close scrutiny and have been exposed for lacking transparency. We are very proud to say that Fuel Tool is not one of those sites. Founded on an ethos of transparency and fairness, we have nothing to hide. Fuel Tool is not owned by an oil supplier or distributor and is proud of our independent status.

Google Street View and Google Maps - Supplier Tools Excel
Our suppliers now have the added benefit of being able to view the satellite imagery of the location where oil is being delivered to. This allows them to properly assess access to the property and prepare for potential obstacles. Also integrated into Fuel Tool is the Google Street view, which allows delivery drivers to see entrances and exits before they arrive. It goes to show that Fuel Tool isn't just for customers looking for the cheapest oil, but it's really a fantastic tool for our dedicated oil suppliers as well.

Fuel Tool Record Week!
Thank you, England, Wales and Scotland for choosing Fuel Tool this past week for your independent price comparison for home heating oil. Our last week of turnover on the website was another record breaker, showing us and Great Britain that what you want is an unbiased, fair and easy to use price comparison / ordering system for your domestic kerosene orders. Week on week, Fuel Tool has proven to list the cheapest oil prices in the UK and it's showing. Thank you to all of our suppliers for keeping the competition tough.

Fuel Tool Customer Support
Our customer support team is available from Monday to Friday, 9:30am to 5:00pm via our telephone support line. See the Contact Us page for details. We are here to assist you with your enquiries and to make sure you are comfortable ordering with us. Do you have a special query? Do you have a bulk order you would like our suppliers to consider? What if you and a couple of your friends would like to combine your orders to achieve a lower price band for your kerosene? We can accommodate all of these options and will promise to do it with a smile. All we want to do is help to put you on your way to the cheapest domestic fuel oil you can find. Call us or email us today for more information.

Credit Card Processing Fees - Fuel Tool Improves Transparency
Debit Card purchases are and have always been FREE from the Fuel Tool website; however, many Fuel Tool suppliers unfortunately must pass on merchant fees if you choose to pay via a credit card. Previously, customers ordering from Fuel Tool would be notified of potential credit card processing fees at the point of checkout. In response to recent comments made on the Fuel Tool website regarding this, we have decided to implement a new change to our search results page which will now display potential credit card charges that a supplier may pass onto you, before you select your product and proceed to the checkout. This should save shoppers time and give you a greater insight into the real cost of ordering domestic heating oil from Fuel Tool. We feel that this is the fairest way to show you our suppliers' kerosene prices.

Almost There...Fuel Tool Serves 99.74% of Mainland UK Addresses
Special thanks to our dedicated and fast-growing team of independent oil suppliers who, together, collectively, have achieved a near 100% UK Mainland coverage with our supply of kerosene home heating oil and gasoil. It's not just about quantity, it's also about quality and quality at Fuel Tool means LOW PRICES for oil. Just do a comparison and you will see what we're talking about. Why are we cheaper? Because our oil suppliers want to be the cheapest. Simple! If they can be the cheapest, they'll get the orders and you'll benefit from our healthy dose of market competition. Olay!!! Viva Fuel Tool!!!

Slow Kerosene Trading Week As Economic Fears Unfold About Possible Recession
The Kerosene Domestic Fuel market has seen a dramatic slow down in activity this week due to the fears of a double dip recession coming closer. This week's news from overseas' markets has sparked new concerns and therefore confidence has been knocked, sending home heating oil buyers into a holding pattern as heating oil price trends are being questioned. As interest rates reach new lows, kerosene buyers are dubious about crude oil prices and the knock on effect with heating oil prices so are willing to wait for a short time until prices stabilise. As winter nears, home consumers are hoping cheaper crude prices might play to their advantage as they are waiting for just the right moment to strike and fill up their oil tanks.

Low Price Matrix Launched
Our suppliers now have a low price matrix to check their available regions for other suppliers' prices. This allows them at any time of the day to view live pricing of other suppliers, enabling them to go head to head to achieve the best sitewide pricing for Kerosene and GasOil.

Scotland Suppliers Take Off on Fuel Tool
For a long time now, Scotland home owners have suffered with Domestic Heating Oil prices because of the remoteness of many areas and lack of suppliers who deliver there. We're here to try and change that. We currently have four different suppliers who have agreed to deliver to the Scotland area. With more suppliers, the prices should be brought down. Competition is king and we hope Scotland kerosene customers will feel the benefit.

Domestic Heating Oil Buying Groups - Save with Bulk Orders
Fuel Tool is now offering syndicate ordering from our website. We will put you in touch with the cheapest supplier in your area and they can arrange even further discounts from our already lowest prices from the Fuel Tool website. Click here to contact us about a potential group order and we will get back to you as soon as possible with the best supplier for your area. Read More about Buying Groups

Daily Price Updates via Email - Subscribe now and save by watching the Oil Price Trends.
Click here to subscribe to daily heating oil price updates. With this, you will receive an update each day at 10:00am, informing you of the cheapest prices in your postcode. By watching the prices, you can ensure you get the lowest price for your heating oil. Ahhhh yes...Again we've come up with another way that Fuel Tool can fight for the oil consumer, achieving the lowest prices and an independent victory for the UK.

Fuel Tool News Archives >>


---
| | |
| --- | --- |
| | @FuelTool on Twitter |
| | |
| --- | --- |
| | Link to Fuel Tool |

If you like what Fuel Tool stands for and want to help us get our name out, please feel free to use our logo images below to link back to our website. Many many thanks!



Link directly to this image or right-click and save:
http://fueltool.co.uk/img/logo.png