| | |
| --- | --- |
| | Current Fuel Tool News / Heating Oil News |
Oil Price Plunge
A barrel of Brent crude fell to $53 on Tuesday, the lowest price in 5 years. In response to the news the Chancellor took to twitter to encourage energy companies to pass on the benefits of plunging costs to customers. Fuel Tool suppliers responded accordingly and the price of heating oil is now lower than it has ever been on our site. That's great news for Fuel Tool customers!!

Fuel Tool Mentioned in The Guardian Newspaper
On Saturday, The Guardian newspaper wrote about different ways to help keep your heating oil costs down and Fuel Tool was mentioned more than once. Click here to read the article on the Guardian website. Fuel Tool is continuing to defy the odds by further reducing prices to astonishingly low levels. Check out prices in your postcode with the Instant Quote box above

Children in Need Donations - Thank You!
We would like to offer the warmest thanks to all of the customers who ordered home heating oil on Children in Need Day 2014 (on Friday). In the end, Fuel Tool donated 15% of our proceeds made on the day to this worthy charity. From all of us at Fuel Tool, many thanks again for your support and contributions.

Winter is on the way!
Experts are predicting 2014 may be the coldest for a century. Oil prices are still very low and holding at the moment on Fuel Tool; however, as demand outstrips supply, the oil prices may rise. Fuel Tool wants to keep you toasty warm this winter for less. Fill your tank now and sit back and relax as winter takes hold.

Autumnal Equinox
In layman's terms, today is officially the first day of autumn, (the autumnal equinox). It is the time of year when the leaves start to change colour and our thoughts turn to keeping warm. Prices at Fuel Tool are as low as they have been all summer and are holding nicely. So, why not beat the rush and order today? Stay warm.. for less.

Why our customers matter the most
Great customer service.. just common sense, right? Well, not always I'm afraid. Here at Fuel Tool we know that nothing matters more than the customer experience, which is why we pride ourselves on the high level of customer service we offer. No problem is too big or too small, no request too silly. We are here to help and support you, the customer through the entire process of placing an order to delivery. Why do our loyal customers come back to us time and time again? Well, that's because we don't just deliver great prices on heating oil, we also deliver a customer experience which works for you. The relationship with our customers doesn't end when an order is placed.. it's only just begun!

High Temperatures.. Low Prices
The sun is shining in the sky and on Fuel Tool as prices continue to stay low. Thinking of heating your home isn't always a priority in the warm summer months but don't get caught out. 'Supply and demand' is a huge factor when it comes to the price of heating oil. Stay ahead of the game and order while supplies are plentiful and demand is low.

Fuel Tool Joins the .UK Revolution
Fuel has become even faster! As of today, instead of entering www.fueltool.co.uk, you can access our site by entering fueltool.uk into your browser to reach us (no www or .co required anymore). If you're old-fashioned, not to worry, the .co.uk is still here should you prefer it. Either way, bookmark Fuel Tool today and get your heating oil faster and cheaper.

Fuel Tool Celebrates 3rd Birthday
We'd like to thank all of our loyal customers and heating oil suppliers for supporting Fuel Tool for three fantastic years of providing a truly fair, useful and beneficial service to the UK. We hope to get better and better in the future and hope to always provide the cheapest prices, best customer service and reliable heating oil delivery to your home. Hip hip, hooray!

Shane Williams Joins Fuel Tool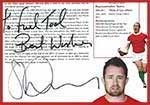 Although Fuel Tool is entirely impartial, we feel a special mention is in order about our most recent supplier on board in South Wales. Fuel Tool is proud to be joined by Star Multifuels, who is supported by one of the greatest Welsh rugby players of all time, Shane Williams, director of the company. Shane holds the Welsh record for test tries and 3rd place in the world rankings. We were honoured to receive an autographed card signed by Shane himself. Click the picture to see the full-sized image. Many thanks to Star Multifuels for sending this to us and we wish you all the best in supplying your heating oil on Fuel Tool.

Fuel Tool News Archives >>


---
| | |
| --- | --- |
| | @FuelTool on Twitter |
| | |
| --- | --- |
| | Link to Fuel Tool |

If you like what Fuel Tool stands for and want to help us get our name out, please feel free to use our logo images below to link back to our website. Many many thanks!



Link directly to this image or right-click and save:
http://fueltool.co.uk/img/logo.png